On 18 June, a batch of complete series road construction equipment produced by Xiamen XGMA Machinery Co., Ltd. (hereinafter referred to as "XGMA") was delivered to Xiamen Port and ready for departure to the African market.
After export of XGMA machineries and equipment in batches into the European market at the end of last month, XGMA took the initiative again to serve the construction of infrastructures along the "Belt and Road" and guarantee the progress of customers' projects during prevention and control of COVID-19.
This batch of complete series equipment includes XGMA heavy-duty loaders, heavy-duty excavators, vibratory rollers, high-power motor graders and other equipment, and will provide customers with construction equipment solutions of system engineering. This batch of equipment with total value of over RMB 30 million will reach Africa directly after sea transport for about 30 days.


COVID-19 has been spreading globally and imposed significant impact on economic development. It has become a top priority for enterprises to devote major efforts to business development since the beginning of this year. As a long-established construction machinery enterprise with 69-year history of entrepreneurship, XGMA has taken the initiative to vigorously expand the market, concentrate on customers' needs, gain orders and fight COVID-19 with practical measures while securing resumption of work, high yield and production in full capacity during outbreak of COVID-19.
It is worth mentioning that the export is arranged by taking full advantages of Port of Xiamen and shipping XGMA products on a RO-RO ship, and XGMA products will be directly delivered to Africa. The RO-RO ship has high efficiency in loading and unloading, achieves "door to door" direct transport from the consigner to the consignee and reduces the damage of cargo and errors in the transport.
Take the Initiative to Provide Customized Solutions of Complete Equipment

"This time, African customers have stricter requirements on system machineries and equipment for construction," the reporter was told by Lin Chunming, XGMA President. XGMA was notified of the customer's needs in this April, and we adaptively adjusted the product lines, allocated different construction machineries and equipment for different construction procedures and provided integrated solutions of construction by complete equipment to meet the customer's needs for differentiation and function diversity of products as per the working conditions of high temperature and high altitude in Africa.
The customer was deeply touched by XGMA's professionalism and inventive minds and selected XGMA from numerous solution providers. Lin Chunming said that XGMA would further provide technologies and services in place and demonstrate the extraordinary skills of Made-in-China in the subsequent applications while facilitating the construction of local infrastructures in Africa.
XGMA has continuously accelerated the pace of expanding the overseas markets in recent years. Up to now, XGMA has had more than 150 distributors and service providers and over 500 sales service stations in the world and continued to create value for users by building a rapid logistics supply system and technical support system. XGMA's reliable product quality and perfect after-sales service have made its sales in the African market steadily increase year by year, and its brand awareness has also been much improved.
Sea-Railway Combined Transport
Continuous Steps in the Market along the "Belt and Road"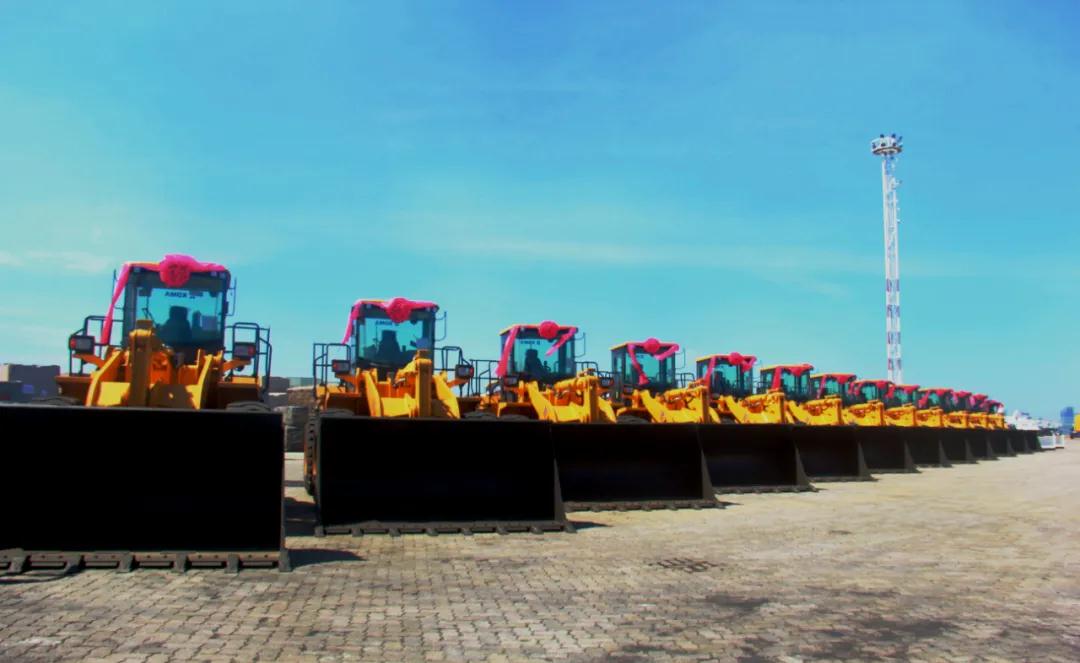 XGMA staff from all levels have, since the beginning of this year, made concerted efforts, fought bravely, not only resumed work but also rapidly achieved high yield and production in full capacity in the face of unexpected outbreak of COVID-19. Meantime, XGMA proactively explored a new business logistics route of sea-railway combined transport to effectively solve the difficulty of partial interruption of international logistics due to COVID-19. Under the intensive efforts of XGMA, orders from key markets along the "Belt and Road" are gained one after another, and products are delivered in batches to Asian, African and European countries and regions. One of XGMG's overseas distributors said that it had established a ten-year partnership with XGMG and both parties have worked closely together, jointly developed the African market, achieved continuous and tremendous progress and established good reputation and customer relation during the partnership. "In 2020, we still have confidence in joint development and expansion of markets with XGMA in the face of COVID-19 and despite the difficulties," said the representative of XGMA's overseas distributor. "The delivery of products in every export order from coordination of suppliers, assembling, factory commissioning, loading and shipping of products is filled with efforts and wisdom of XGMA staff. Since the full resumption of work, XGMA has concentrated on prevention and control of COVID-19 and products in the order, and organized production activities in a scientific and orderly manner while prevention and control of COVID-19 are secured. Meanwhile, every time node is reversely considered to guarantee that products are delivered as scheduled as per the term of contract with the customer," said Lin Chunming. XGMA will make constant efforts, fulfill transformation and upgrading strategy, speed up the pace of reform and innovation, seize the opportunity of close cooperation with the countries along the "Belt and Road", further promote product internationalization, direct launch of products in overseas markets, move forward with customers all over the world and grow together with the world.
Wang Baoyu, the Member of CPC Leadership Group of Xiamen Municipal Bureau of Commerce and the Deputy Director of General Office of Port of Entry and Exit of Xiamen Municipal People's Government:
At present, congratulations to XGMA's major achievements made by XGMA in overcoming the impact brought by COVID-19 and proactively expanding overseas markets. CCRE Group and XGMA are expected to seize the opportunities entrusted by the times, adhere to the spirit of endeavor and diligence, seek innovation and reform, regain the glory of XGMA and make new contributions to sound economic development of Xiamen.
Liu Donglin, the Secretary of CPC Committee and Chairman of CCRE Group:
As a time-honored national industrial brand with 69-year history, XGMA has always been market-oriented, created an self-independent and innovative national industrial brand with the enthusiasm of serving the nation through industry and persistence, which is the original intention of XGMA and also the strong impetus for great-leap-forward development of XGMA after its debt restructuring and reorganization of personnel and teams.
At present, CCRE Group and XGMA are actively implementing the requirements by Xiamen CPC Committee and Xiamen Municipal People's Government on speeding up the transformation and upgrading. We will continue to deepen the reform of the institution and mechanism and technological innovation and persist in improving brand value of XGMA with market and customer orientation, high-quality products and comprehensive services in order to repay the care and support to XGMA by Xiamen CPC Committee, Xiamen Municipal People's Government and all sectors of society as well as customers' deep affection for XGMA brand both at home and abroad.