Good opportunity of showing capabilities and getting ready for departure. On 28 May, the departure ceremony of XGMA premium products to Europe with the theme of "XGMA Sea-Railway Combined Transport to Europe" was held in the plant area of XGMA. Multiple XGMA premium loaders were lined up and ready for departure at the ceremony to facilitate the construction of the countries along the "Belt and Road"!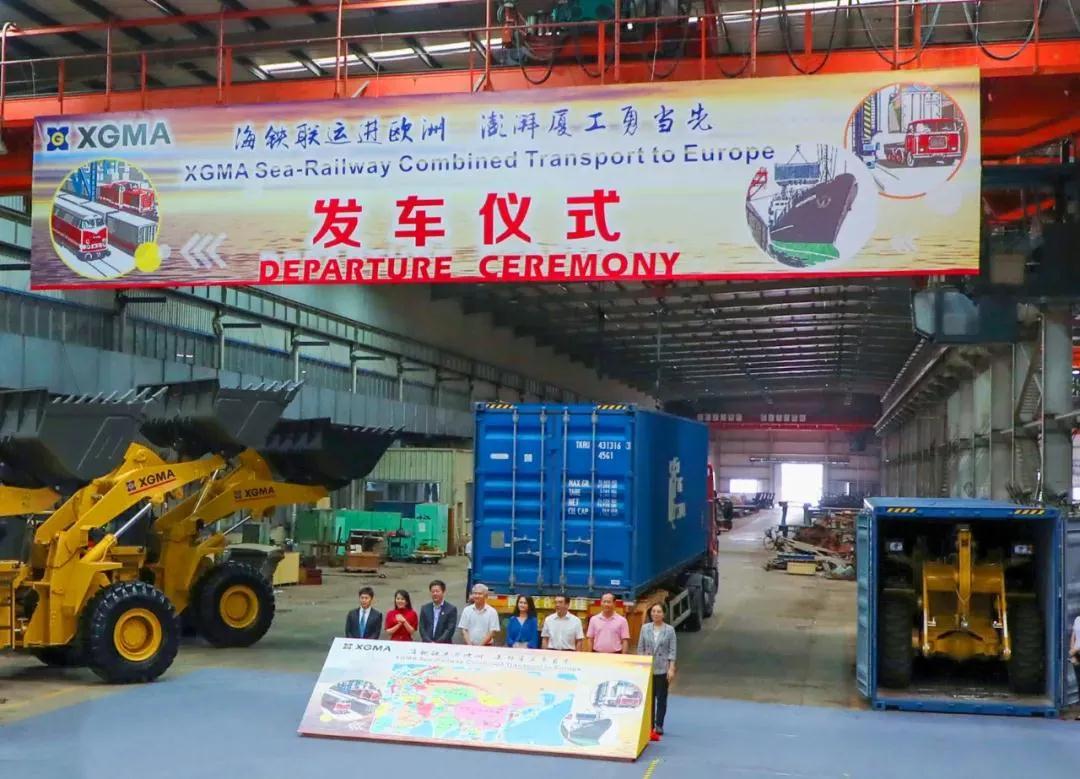 XGMA Sea-Railway Combined Transport to Europe
Continuous Steps to Explore the Overseas Markets and Promote National Brands
In recent years, XGMA has attached particular importance to development and expansion of overseas markets while carrying out transformation, upgrading and innovation. After more than ten years of operation and expansion, XGMA has currently had seven business segments globally, covering Pan-Asia, Pan-Russia, the Middle East, Africa, Central and South America, Europe, North America and other regions, and successively established overseas distribution channels in more than 50 countries and regions including Thailand, Indonesia, Brazil, Russia, Sudan and Kazakhstan, with distribution channels almost covering major countries and regions along the "Belt and Road" and products distributed to over 100 countries and regions around the world. Gu Tao, the Deputy Secretary of CPC Committee and the General Manager of CCRE Group, the Secretary of CPC Committee and Chairman of XGMA, said at the departure ceremony, "In March 2020, CCRE Group instructed optimization and upgrading of XGMA's management team to promote sustainable development of XGMA in both domestic and overseas markets through a series of measures such as professionalization of personnel and teams, efficient satisfaction of market needs and full improvement of product quality." He also emphasized that XGMA would seize the good opportunity of upturn of the domestic industry market and meantime strengthen and stabilize exports to repay the earnest expectation of Xiamen CPC Committee and Xiamen Municipal People's Government on XGMA and customers' trust and support in XGMA with remarkable business performance.
Develop Opportunities in the Countries along the "Belt and Road" with Intensive and Diligent Work
As a distinctive overseas known Made-in-China brand, XGMA has kept contributing its strength to development of the countries along the "Belt and Road" with its products. XGMG products have already taken root and yielded positive results in more than 100 countries and regions all over the world, helping worldwide people jointly build a better homeland. Lin Chunming, XGMA President, said, "XGMA has been keeping up with the "Belt and Road" Initiative and constantly explored the international market. XGMA laid a relatively sound market foundation in the countries along the "Belt and Road" as early as a dozen years ago". XGMA will concentrate on building a "XGMA with Competitive Products" in the future. The new products jointly researched and developed by XGMA and some countries have already begun to take shape, and will be launched into the market in the near future. Regarding the market layout in the future, he said that XGMA is optimizing and adjusting the front-end sales network and it is believed that XGMA will make a big breakthrough in the next three years.

XGMA Loaders Lined up for Departure
Making Breakthroughs in the Face of Adverse Situations
XGMA Seizing Market Shares with Premium Products
In 2020, the unexpected COVID-19 overshadowed the global market and it has becomes a primary task for Chinese construction machinery manufacturers to figure out how to make breakthroughs and seize the market shares in the face of various challenges such as the frustrating exports and the decline in overseas market demand.
As a well-established national enterprise, XGMA proactively seeks change and innovation, carries forward the spirit of "strict prevention and control of COVID-19 and restart of overseas business", implements innovation vigorously, explores a new business logistics model of sea-railway combined transport and effectively solves the interruption of international logistics caused by COVID-19 so as to deliver products in batches to the European market. This new model brings change to the traditional logistics model of the countries along the "Silk Road", and the cost in time and labor is significantly reduced by applying sea-railway combined transport.

XGMA Loaders to Export to Europe
It is understood that XGMA loaders are well received among worldwide users and frequently used in the construction of key projects all over the world via their high performance, reliability and economical efficiency. In particular, this batch of products to export to Europe is tailor-made for customers, and better fits the work habits of local users and meets the needs of different working conditions.
With further promotion of the "Belt and Road" Initiative, XGMA will spare no efforts to focus on product upgrading and market layout, create reliable, durable and high-quality products, continuously move toward the medium/high-end of the value chain, demonstrate the strength and advantages of national brands and contribute strong impetus to the construction of projects in various countries.